How to take part in Gmelius' referral program?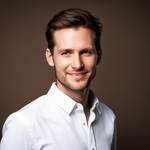 Updated by Gmelius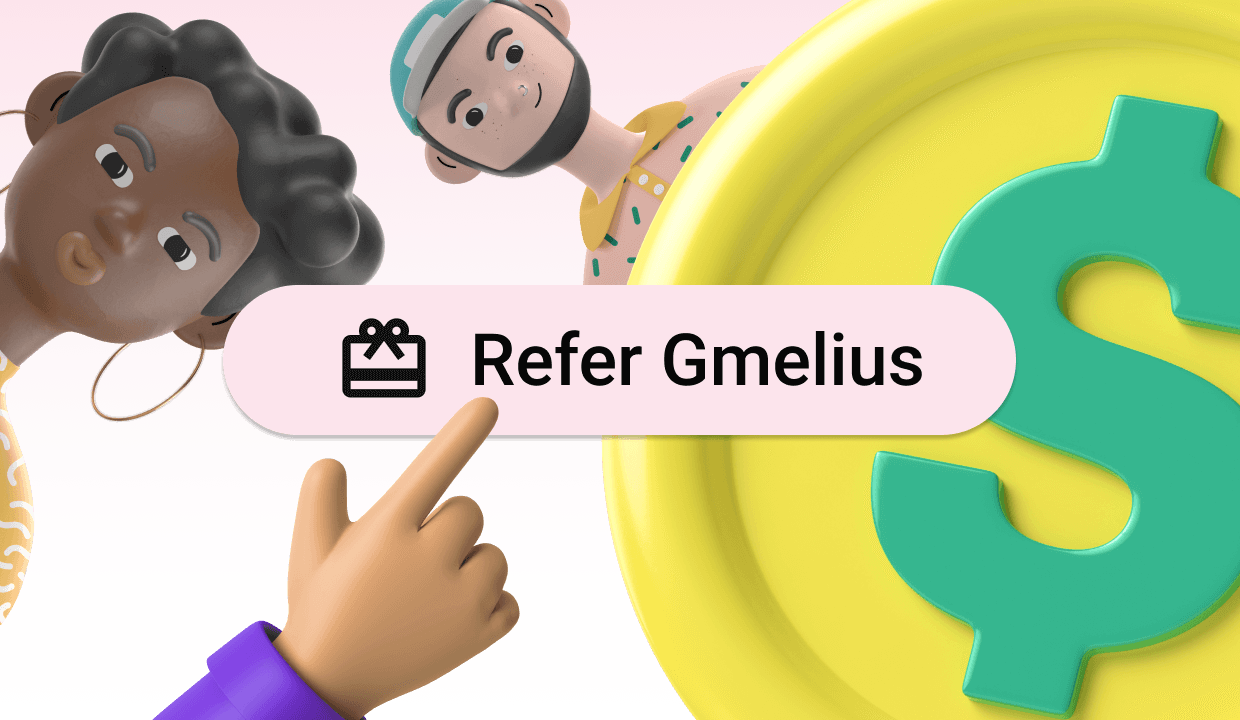 Know anyone who could benefit from Gmelius? Refer someone and get up to US$500 in rewards. Here's everything you need to know.
👏 How do I invite others to Gmelius?
As a Gmelius user, you can access the referral widget to easily share and track the status of your referral(s). You can find the button "Refer Gmelius" in the top right of your Gmelius dashboard.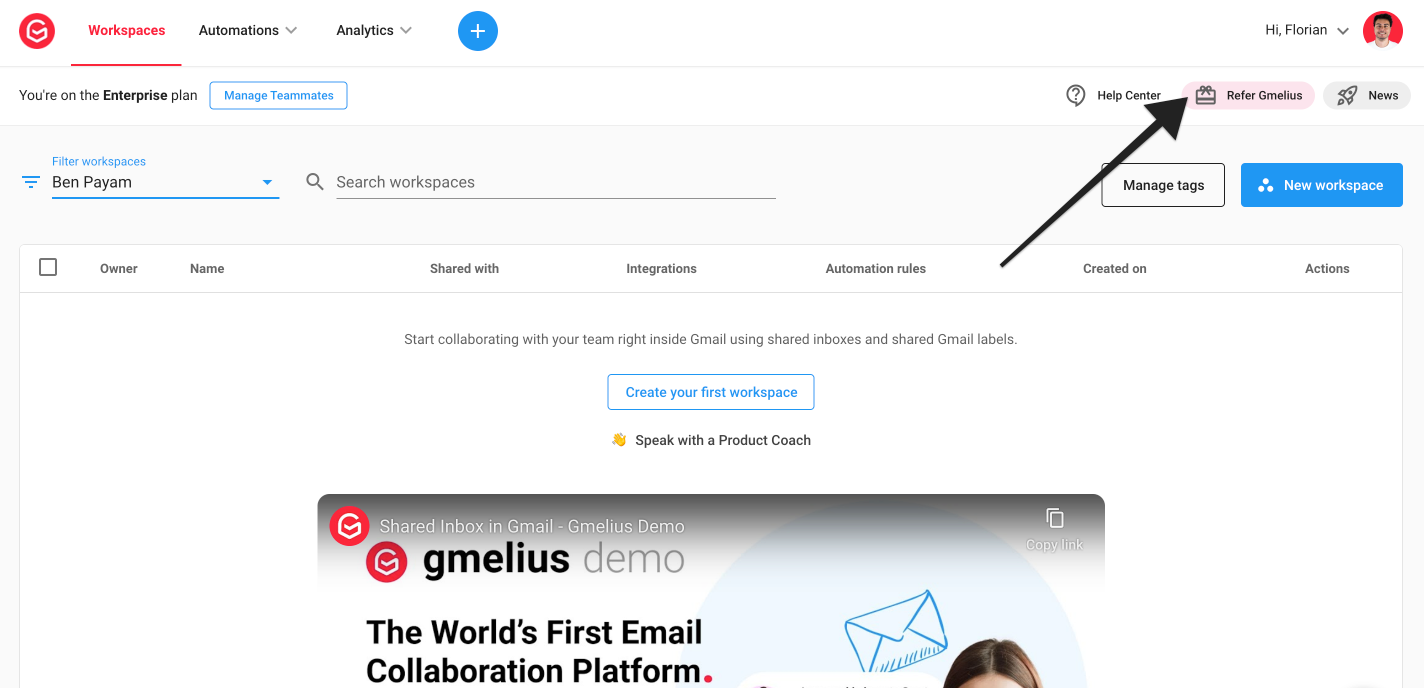 Once you click on the button, you will see your unique referral link that you can copy and share via your preferred distribution channel.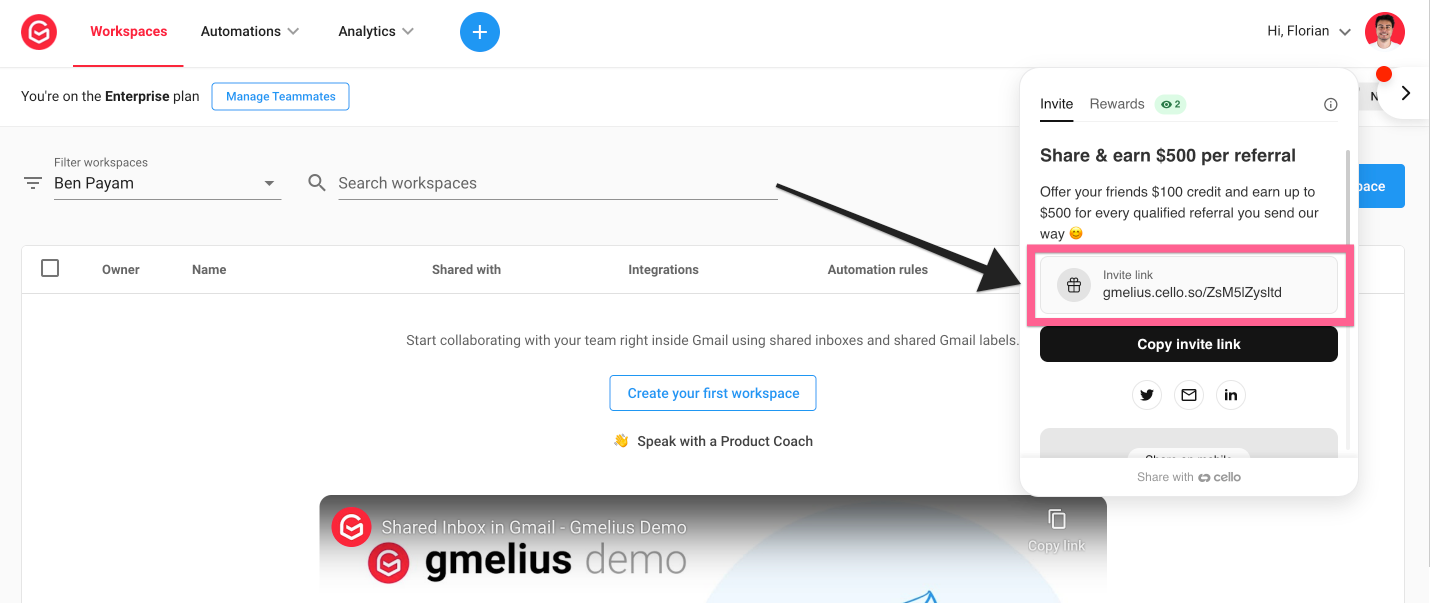 Here are a few ways to share the link:
Copy the given URL and send it using your preferred channel.
Scan the QR code using your mobile to share the link via messenger or any other mobile channel.
Click one of the icons at the bottom to share on social media or via email.
What happens next?
Your referral will schedule an intro call with one of our reps using your link. Once they attend it, they will get US$100 worth of credits on all our plans.
❗Note: Gmelius reserves the right to cancel the call if the company is not a good fit for the product. Please reach out to [email protected] if you would like to check if the company meets our qualification criteria beforehand. As a general rule, a "good fit" is a company working with Google Workspace/Gmail with more than 10 employees located in North America or EMEA.
You will be notified once someone views your link, conducts the call, or becomes a customer.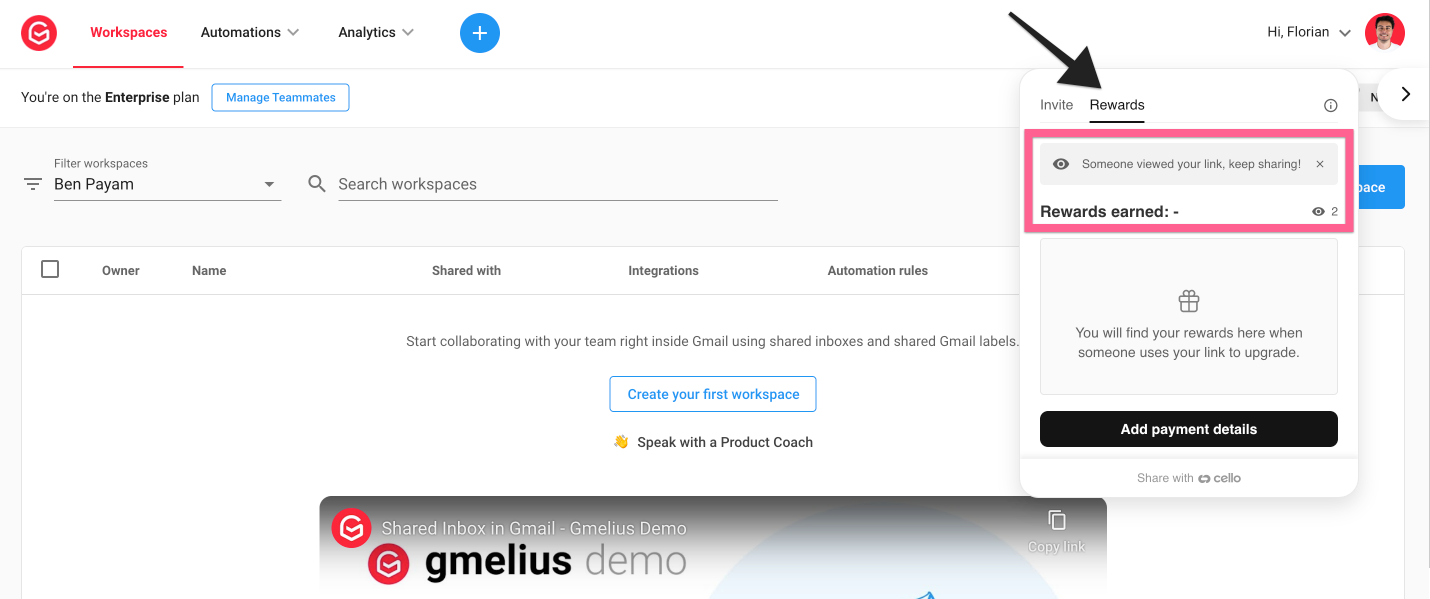 🎁 How do I claim my reward?
For everyone who attends an introductory call from your referral, you'll automatically receive US$100.
On top of that, you will get 25% of MRR (up to US$400) if the referred company becomes a Gmelius customer.
Your rewards will be displayed in your referral widget and automatically transferred to your Paypal account.
❔ Have any questions?
If you want to check if a company is a good fit, inquire about the status of your referral(s), or have any other questions about the program, please contact [email protected].
🤔 Need some inspiration?
Here are a couple of posts you could share on your favorite networks; e.g., Twitter, LinkedIn.
I love this tool: Gmelius 🙌

Super useful app to manage and collaborate on emails with my team right inside Gmail. Their automation suite reinvented my workday! Highly recommend it.

[insert your referral link here]
My App of the month: Gmelius 🏆

It is an absolute game-changer for managing and collaborating on emails with my team in Gmail. The automation suite they offer has completely reinvented my workday. I can't recommend it enough!

[insert your referral link here]
---
Your referrals will be considered a "good fit" for Gmelius if they meet our sales qualification criteria. Likewise, your referrals will be considered a "customer" once they've officially purchased a Gmelius subscription.