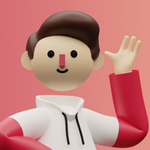 Updated by Gmelius
Gmelius offers an innovative and clever way to manage email for groups; support@, sales@ or any other group alias right from your Gmail inbox. 
Before setting up a shared inbox, you should already have an email address you wish to configure as a shared inbox. This email address should be one of the two following types:
G Suite or Gmail primary account, that is an email address used to login into Gmail
Google Group or an Alias (an email alias is an email address that forwards emails to your G Suite/Gmail account)
You may also find useful:
Set up a Shared Inbox
⚠️ Before setting up a shared inbox make sure you added your team 👉 here.
Please head to the shared inbox panel in your Gmelius dashboard.
If your
shared inbox email address is a primary account
(i.e., you can actually log into Gmail using this email address), first you need to
add it as a user to your subscription
and then log in to the dashboard of this user to set up the shared mailbox.
E.g., Emily (emily@awesome.com) is a Gmelius account administrator. She wants to create a shared inbox for sales@awesome.com. Sales is a primary account with its very own inbox. First, she needs to add sales@awesome.com as a user to her subscription via
gmelius.io/account/team/add
Then, she will log in as sales@awesome.com to
gmelius.io/shared-inbox
to set up the shared inbox.
Click on the blue button NEW SHARED INBOX at the top/right of the page;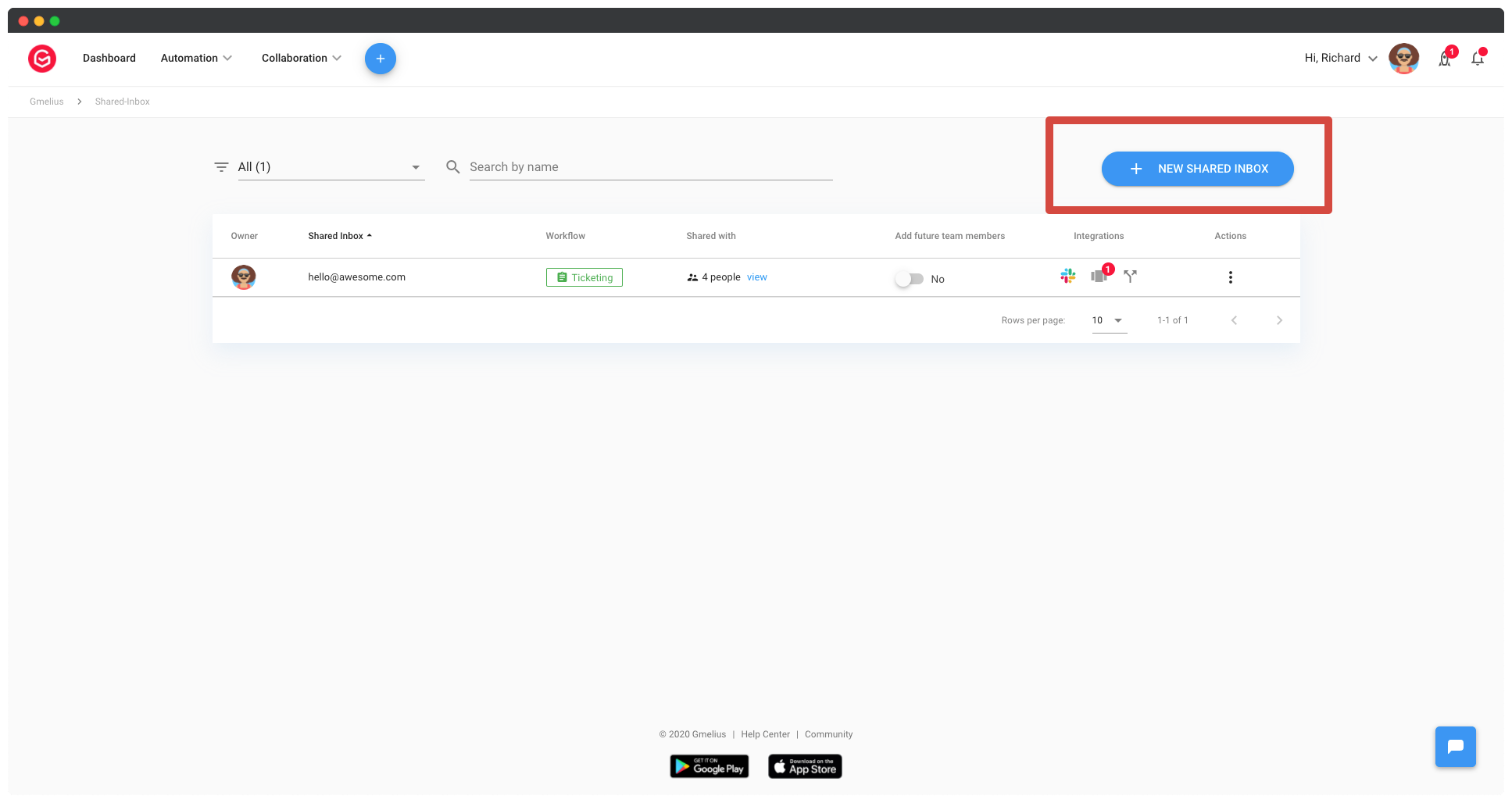 Direct link 👉 https://gmelius.io/shared-inbox/create
Select or enter the email address you wish to share.
Ensure the email address is part of your Gmail account either as an alias, or a Google Group.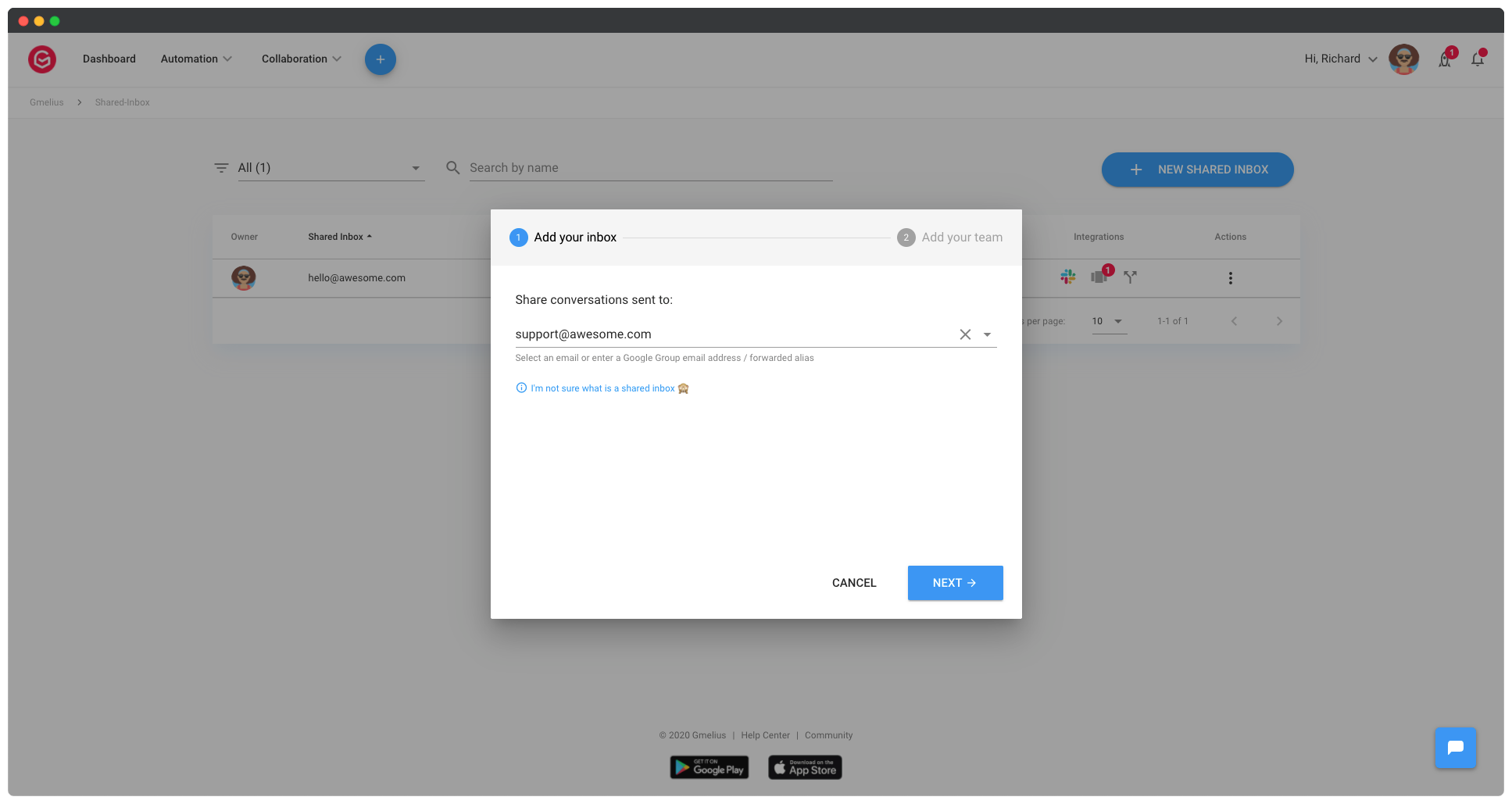 Click on NEXT ->
Add the teammates you want to share the inbox with and click on SHARE WITH

You can further edit the name of your shared inbox [optional]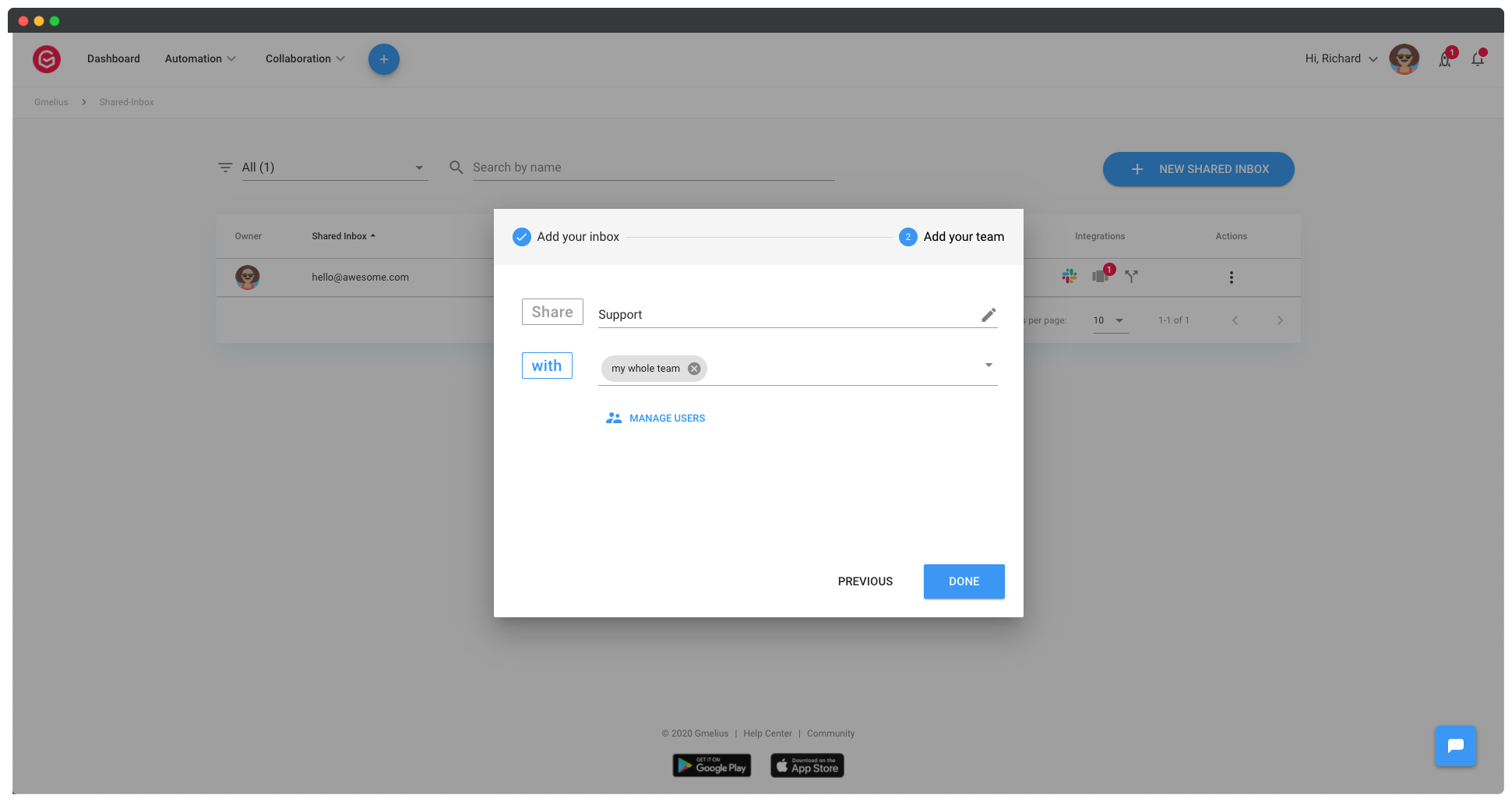 Click on DONE
That's it! Your shared inbox will be configured and ready to use.
Editing your shared inbox
Automatically add Future team members to your shared inbox
Choose if you want to automatically add future team members to your shared inbox, when added to your Gmelius subscription.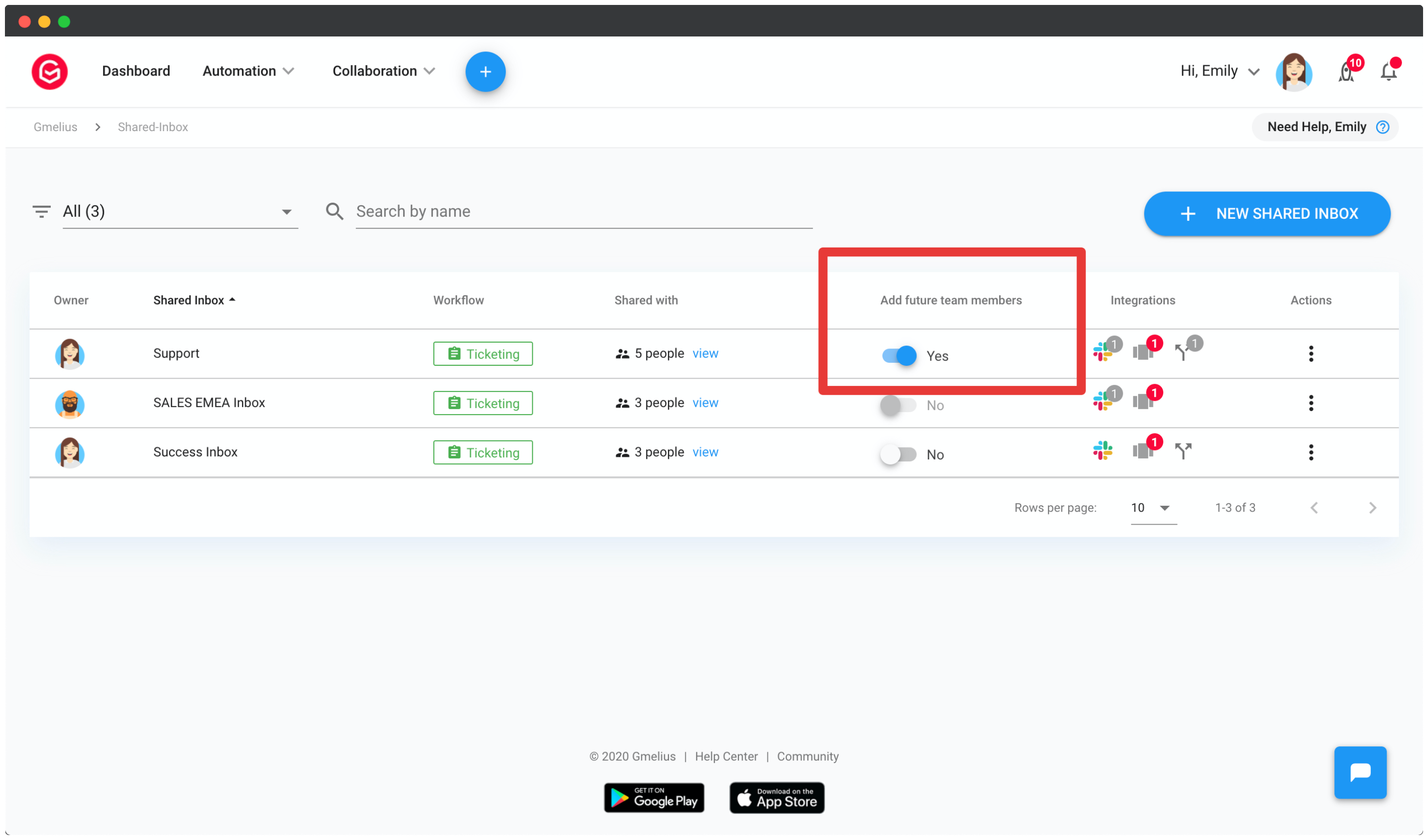 Route conversations to your teammates' individual inboxes
You can opt to have conversations to also appear in the personal inboxes of your teammates. Conversations will continue to be routed to the unassigned folder of your shared mailbox's ticketing panel.
For more information on how to using manage your shared inbox with a ticketing system see here.
Click on the ellipsis on the right corner and select Edit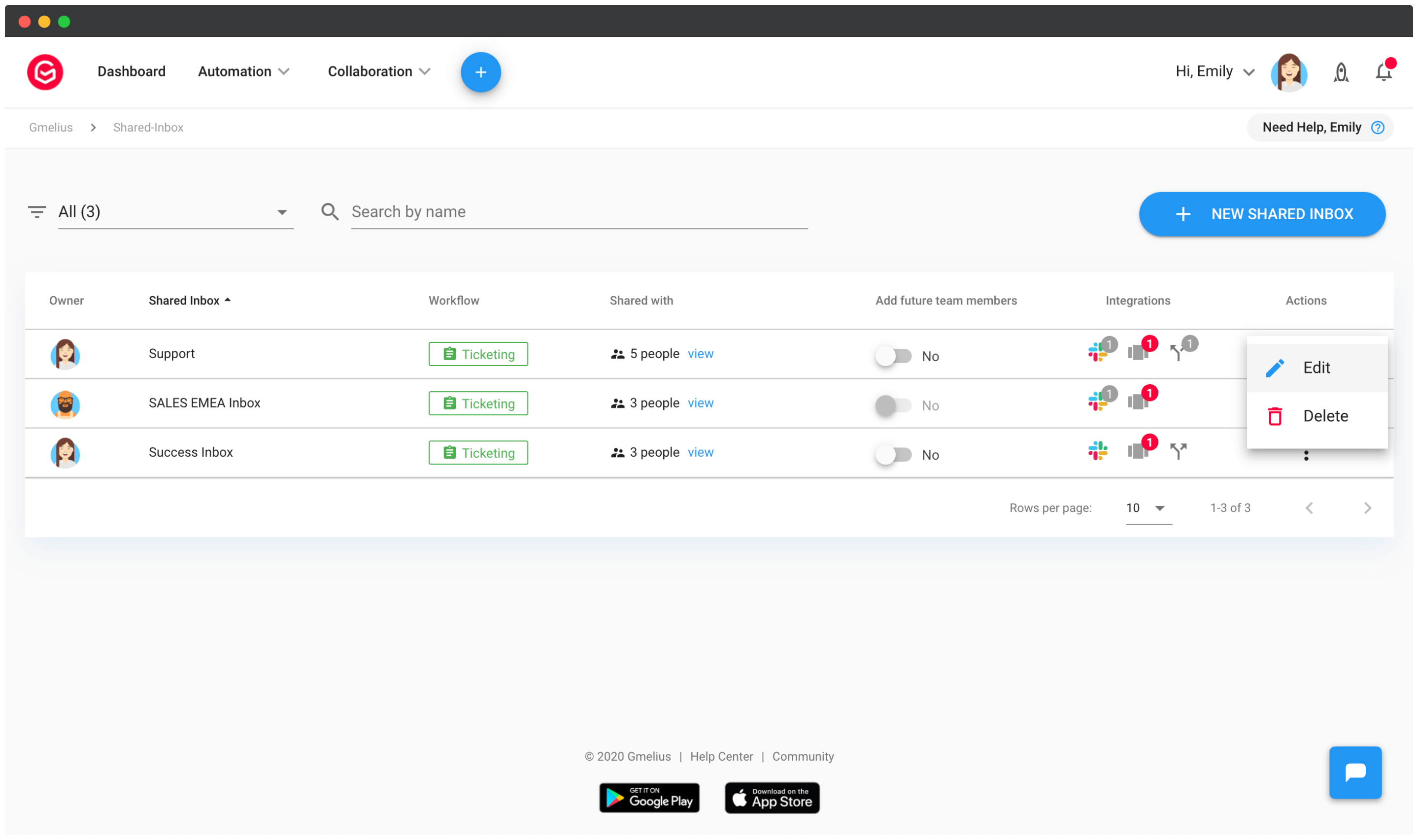 Select Yes on the respective question displayed.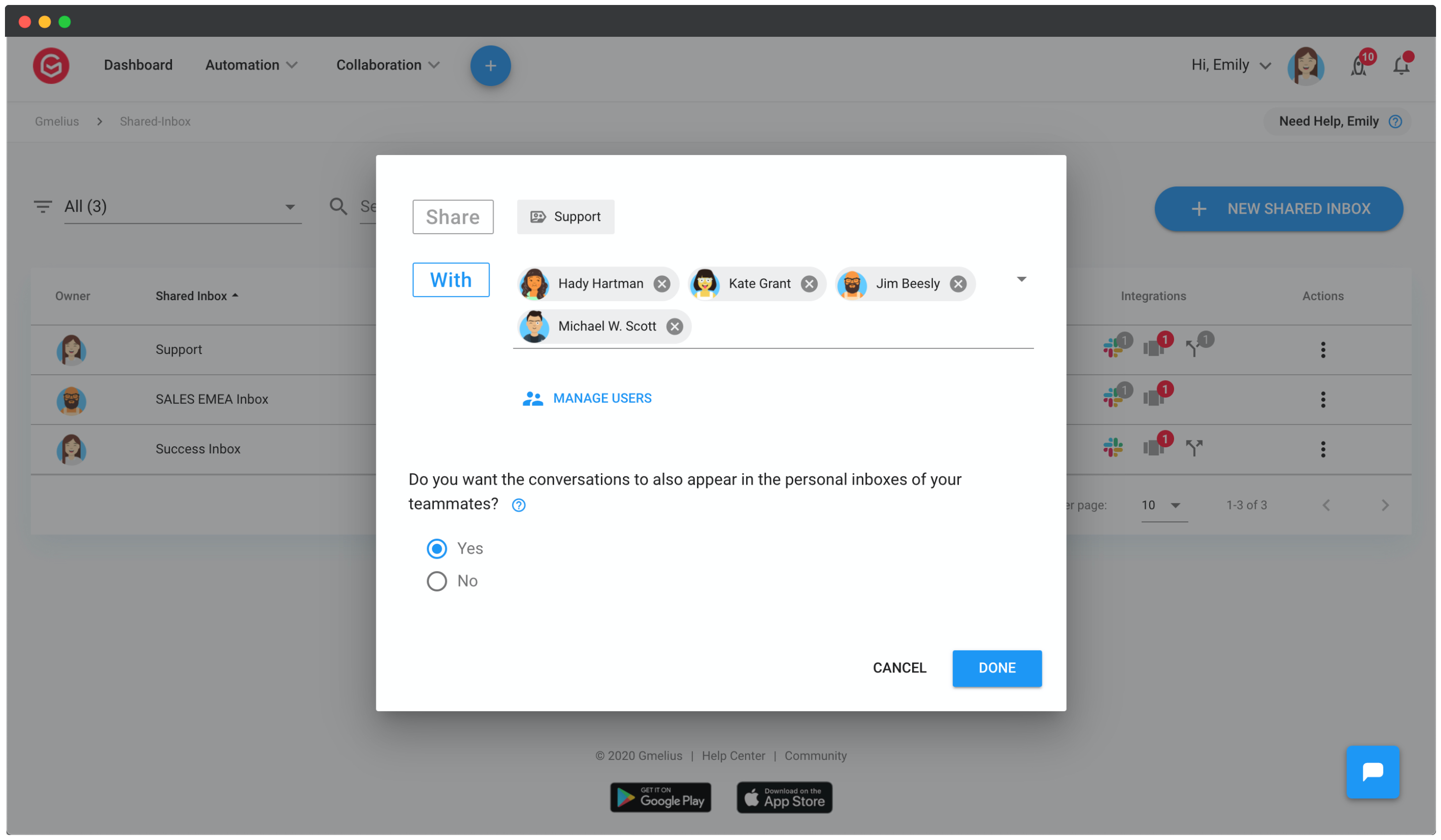 Your shared inbox will by default work with a ticketing system. All new conversations of the shared-inbox will be routed directly to unassigned folder, skipping the personal inboxes of your teammates. If you tick "Yes", shared conversations will be added to the primary inboxes of your teammates as well. We don't recommend enabling this setting for shared inboxes with a high volume of emails, e.g., more than 50 emails / day.